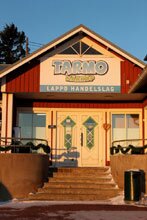 Opening times 5.6. - 22.6.2017
Monday – Friday 09.00 – 17.00
Saturday 09.00 - 14.00


Opening times 23.6.2017
09.00 – 18.00
Opening times 24.6. - 25.06.2017
14.00 – 18.00
Opening times 26.06. - 06.08.2017
Monday – Saturday 09.00 – 19.00
Sundays 12.00 – 18.00
Opening times 07.08. - 20.08.2017
Monday – Friday 09.00 – 17.00
Saturday 09.00 - 14.00

Opening times 07.08.2017 - 03.06.2018
Tuesday – Friday 10.00 – 13.00 ja 15.30 - 16.00
Saturday 10.00 - 13.00
The letterbox at the store is emptied monday – friday at 1pm.
Tel: 018 56622
The Lappo cooperative store is located next to the Finnvik guest harbour. The cooperative is active since 1941. The store has a post office and order alko, welcome!
Like Lappo cooperative store on Facebook to check opening hours during holidays etc.
---